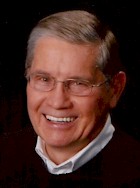 John Wolfe
Currently Rev. John Wolfe is president of Methodist Hour International. He has served in this role for the past 20 years. In addition to this ministry he has also served as a pastor in the local church for 40 years. John officially retired in July 2008 after serving the Birmingham United Methodist Church for 15 years.

MHI is a weekly radio broadcast that reaches some two million people in the US. MHI is an affiliate member of the General Board of Discipleship of the United Methodist Church. In July 2009 MHI was confirmed again as an affiliate member for the next quadrenium. Each 30 minute program includes a personal witness of faith, an Upper Room Devotion, two selections of music and a message of hope and encouragement from the Scriptures. Methodist Hour is both international and interdenominational.

In 1996 Methodist Hour International became part of a project called Reconciliation 97. In 1999 John was asked to be co-director of RNOW (Reconciliation Networks of Our World). Since its first international reconciliation event in Coventry England, RNOW has held events in Louisville, Kentucky and in Boston Massachusetts, and in Atlanta GA. In 2003 RNOW was presented with official membership in the international ministry of "The Cross of Nails" based in Coventry, England. The fifth international event was held in Louisville KY, October, 2005. RNOW is a faith based, story-driven ministry that seeks to bring together people from every continent and background to share their stories of reconciliation. The power of these personal stories breaks down the walls of race, denomination, culture, gender, and other issues that separate us not only as individuals, and in families, but in the very body of Christ.

Today RNOW is restructuring and developing new models for conferences; the current focus in on local churches. Some very exciting things are in process. At the present time John Wolfe is working with Dr. Ben Johnson and a number of community leaders in the Atlanta area creating effective interfaith dialogue and understanding. Dr. Johnson is the heartbeat of this project.

In June of 1993 the Rev. John L. Wolfe was appointed as pastor of the Birmingham United Methodist Church, Alpharetta, Georgia. At that time the Birmingham United Methodist Church was celebrating its 163rd year as a church. Birmingham's average Sunday attendance was fourteen and had a membership of 22. Today the average attendance is nearly 800 and membership has grown to 1300. Easter 2008 attendance reached 2500 persons. In October 2001 BUMC purchased 5 additional tracts of land totaling 61 additional acres contiguous to its present campus. This is a miracle story that captured the imagination and hearts of a handful of faithful members and became a reality when very few thought it could happen.

Birmingham's new worship center and educational buildings were completed in September 2005. Now called The Sanctuary at Birmingham UMC, this 63 acre track is dedicated to provide a safe place for all who would seek sanctuary from the stress and chaos of life. It is a place to walk in the woods and listen to birds and flowing streams. It is a place of quiet and solace. It is a place to draw closer to God.

BUMC has a strong mission focus. Its members participate in numerous mission projects (local, national, and international) and have assisted in completing several Habitat for Humanity homes in Roswell. On Sunday mornings worshippers gather to experience a blend of traditional and contemporary worship. Powerful educational and mission ministries are woven into this place of excitement and peace. In 1995 John received the coveted Foundation for Evangelism Denman Award for Evangelism at the North Georgia Annual Conference.

After high school John played football for one year in college and 3 years in semi-pro football. With little college and a new wife he began a career as a builder. This plan was interrupted. He was drafted in the US Army. When his duty was complete he returned to Fort Lauderdale and began a career as a real estate and insurance broker. When it began to look like success was realized, he responded to his call to ministry, which he occurred at age 16 and resurfaced while a member of the Pompano Beach First United Methodist Church. With his wife Judy and their 3 children he returned to college and spent the next 8 years in school and serving student appointments. Wolfe says that the first Sunday he was to preach at his student appointment (Bethel UMC in Tallahassee Florida) he had the deep assurance that he was on the very place on the planet where God wanted him to be and it has never changed…even a little!

John's wife, The Reverend Judy C. Wolfe, M Div., BCC, served for 10 years as Oncology Chaplain, at Scottish Rite Children's Medical Center, Atlanta, Georgia. In 1998 Judy established a program of grief counseling and wrote and taught two courses on grief, which are approved by Georgia State University for professionals in their continuing education credit needs. These courses called "Helping Yourself and Others Who Grieve" and "Children, the Forgotten Griever" have been taught in numerous places including local churches and at the conference level to pastors. In addition to speaking, counseling, and leading workshops all across the Southeast, Judy played a key role in the remarkable growth of BUMC. She served as the Associate Minister for 10 years. The Wolfe's have three married children and eight world-class grandchildren. 2009 they celebrated their 52nd wedding anniversary. They live in Canton, GA.

M.Div.

Candler School of Theology, Emory University 1974
D.Min Studies '74-77

Elder

Served in N Georgia Conference since 1971(Full Connection 1980)

BA

Florida State University 1971

1993-2008

Senior Pastor, Birmingham United Methodist Church

1990-present

President of Methodist Hour International

1977-1990

Senior associate pastor, Roswell United Methodist Church, Roswell, Georgia. While serving at Roswell, staff grew from three to 50 and membership grew from 1,776 to 5,000.

1974-1976

Missions Director, Institute of Church Renewal, Atlanta, Georgia and D-Min. Emory University

1971-1974

New Hope UMC, Palmetto, Georgia (Pastor)

1969-1971

Bethel UMC, Tallahassee, Florida (Pastor)

1961-1969

Real Estate and Insurance Broker, Pompano Beach, Florida

1960-1961

U. S. Army
Home Address: 2555 Arbor Hill Road, Canton, GA 30115 • 770-345-7760
Methodist Hour International •15770 Birmingham Hwy., Alpharetta, GA 30004
Phone: 687.488 2162 • Email: mhi@mindspring.com